Material Hatch with Freezer Function – Pharmaceutical Industry
The transfer of products between cleanrooms under controlled conditions required the development of a materila hatch with temperature and humidity control necessary. Special attention was paid to the insulation to avoid any condensate. GMP conform design, documentation and qualification were standard requirements for the job.
Start-up CEO – Biotechnology
The roombiotic Gmbh located in Graz (Austria) develops biogenic active Substances and uses them to disinfect surfaces or to improve the shelf live of food products.
Together with the team we were able to win an investor for the company and we could achieve a grant from the AWS (Austrian federal promotional bank). The testing and proving of these new technologies and substances was part of the daily business as well as the development of several business cases and a major business plan.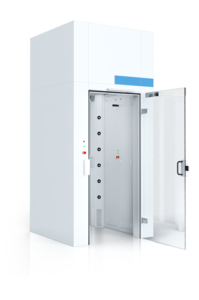 Air Shower with Sterilization Function – Pharmaceutical Industry
The development of a new technology to disinfect cleanroom clothing required the production of a prototype to prove function and effectiveness. This prototype combines two new technologies. The photodynamic disinfection of the cleanroom clothing and the removal of microparticles with clean air through special air nozzles. For the first time micro particles can be removed while a log 6 reduction of germs takes place on the garment. The development of a test procedure to prove the effectiveness of the technologies was also part of the assignment.
Cleanroom – Microelectronics
Project management (Walls, Ceiling, Floor, HVAC) for the construction of a cleanroom. Coordination of several trades, scheduling, budgeting, measurements and documentation were part of this assignment. Several different cleanrooms up to a cleanroom class ISO 5 were built, measured and qualified.

Automated Material Handling System – Microelectronics
I had the opportunity to lead the Project of installing an automated material handling system (AMHS) in the state of Utah in the USA. Several miles of transport system has been installed and commissioned during the Project that lasted over a year.
HEPA Cart – Pharmaceutical industry
A US Pharmaceutical enterprise needed to transport product under class A conditions inside a lower class cleanroom. A battery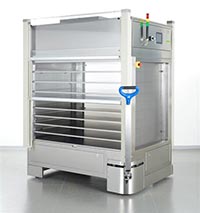 powered Cart with HEPA filtered air and horizontal airflow could fulfill these requirements. The development included compliance of GMP guidelines and customization to meet customer requirements.
A series of 19 carts has been manufactured, tested and qualified before the could be delivered to the end user.

Ingenieurbüro Stefan Rud • Weißbriach 80 • 9622 Weißbriach • Austria • Mobil: +43 676 7069 107 • Mail: